10/14/22 – Weekly Covid-19 Update
CHAP's COVID-19 Weekly Update
In this "one-stop-shop" update, CHAP will provide a roundup of important COVID-19 information from various federal sources.
All health care providers should be monitoring COVID-19 incidence rates in their state/county on an ongoing basis. The Centers for Disease Control and Prevention CDC provides weekly data about case rates, deaths, testing, and vaccine administration on their COVID tracker webpage.
CDC Data

COVID-19 Variants by region
COVID-19 Variants by region – BA.5 now causes almost 90% of US COVID-19 cases. Estimates of Weighted Proportions of Variants by State/Jurisdiction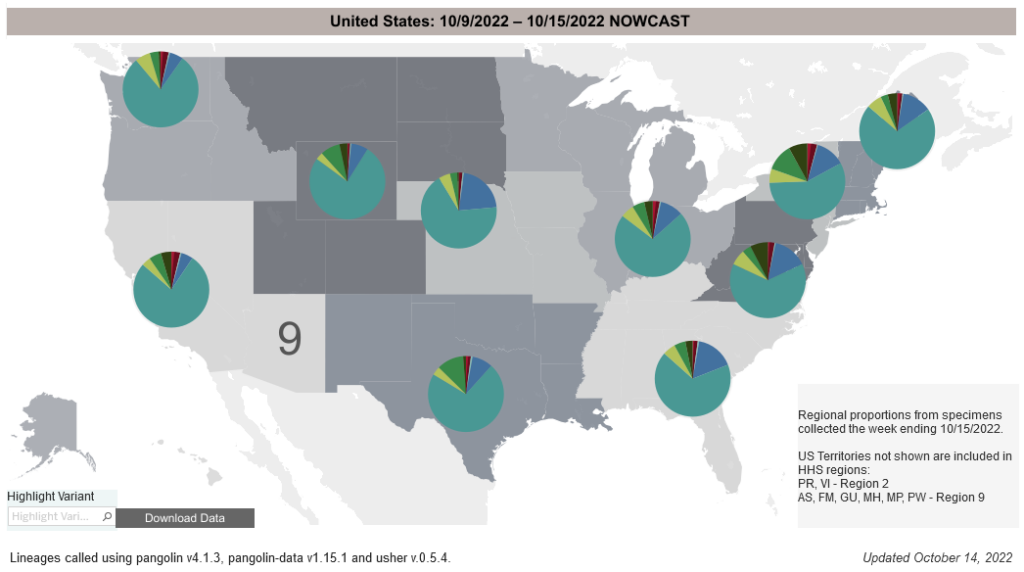 Locate county specific vaccination rates at COVID-19 Integrated County View
Variant Types – Map Key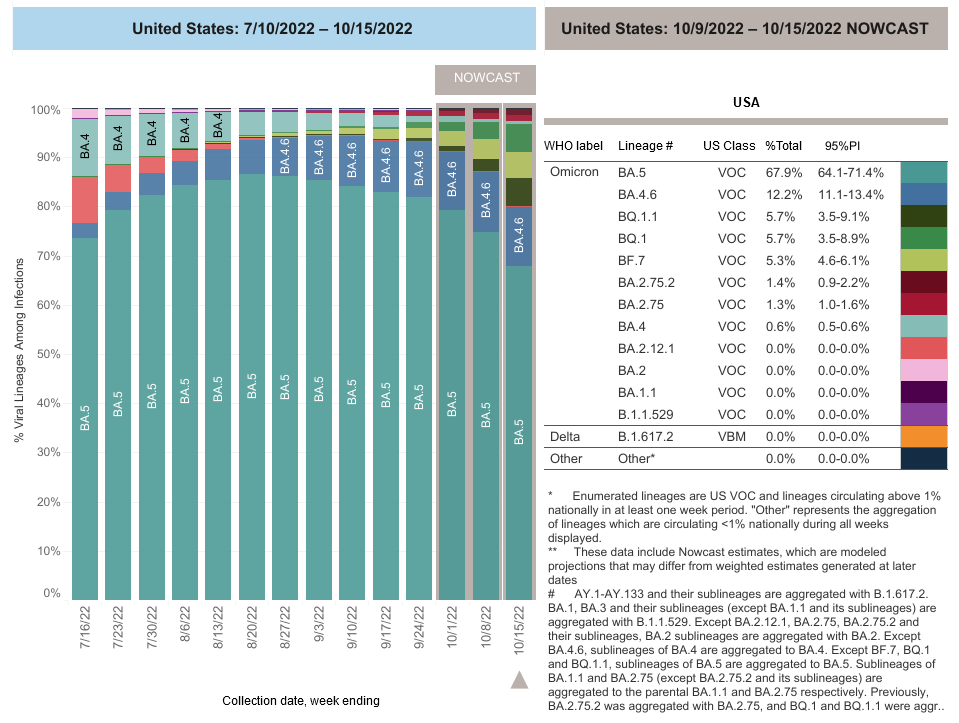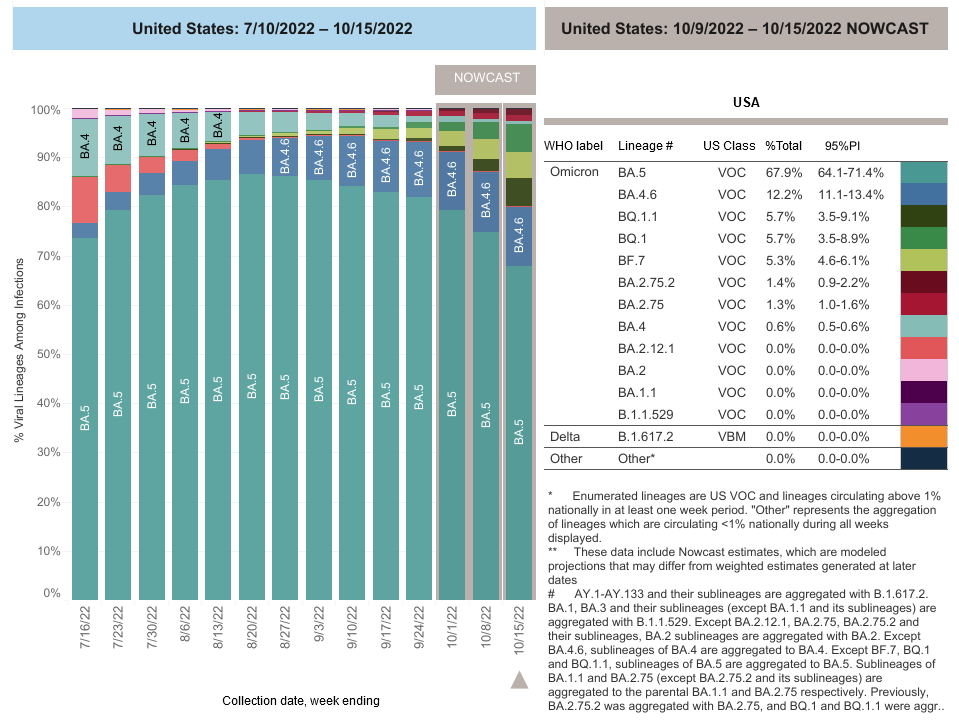 CDC and other Federal COVID-19 Updates:
HHS renews COVID-19 PHE for 11th time (10/13/22)
On Oct. 13, HHS/ASPR extended the public health emergency for another 90-days. The 11th renewal of the PHE since its first declaration in January 2020 allows providers to continue operating under the establishes CMS COVID-19 PHE waivers until at least the next deadline: January 11, 2023. As a reminder, CMS published a blog "Creating a Roadmap for the End of the COVID-19 Public Health Emergency," with attached links to memos about the waivers for each provider type. Even though the PHE has been extended, providers should revisit this blog and develop plan for the withdrawals of the waivers.
Coronavirus (COVID-19) Update: FDA Authorizes Moderna and Pfizer-BioNTech Bivalent COVID-19 Vaccines for Use as a Booster Dose in Younger Age Groups (11/12/22)
The FDA amended the emergency use authorizations (EUAs) of the Moderna COVID-19 Vaccine, Bivalent and the Pfizer-BioNTech COVID-19 Vaccine, Bivalent to authorize their use as a single booster dose in younger age groups. The Moderna COVID-19 Vaccine, Bivalent is authorized for administration at least two months following completion of primary or booster vaccination in children down to six years of age. The Pfizer-BioNTech COVID-19 Vaccine, Bivalent is authorized for administration at least two months following completion of primary or booster vaccination in children down to five years of age.
Infection Prevention and Control: Incorporating Lessons Learned in Managing Special Pathogens (11/7/22 ~ 2:00pm ET)
After nearly three years responding to the COVID-19 pandemic, hospitals and other healthcare facilities have learned many lessons about the management of special pathogens and essential infection prevention and control practices. The U.S. Department of Health and Human Services (HHS) Administration for Strategic Preparedness and Response Technical Resources, Assistance Center, and Information Exchange (ASPR TRACIE) and the National Emerging Special Pathogens Training and Education Center (NETEC) invite you to this webinar to learn more about some of those lessons. Speakers will share their perspectives on how our approach to outbreaks has changed since the pandemic began. They will address issues such as infection prevention for healthcare workers and patients and mitigating disease spread. Speakers will also highlight newly developed tools and resources.
New HHS Report: COVID-19 Vaccinations in 2021 (10/7/22)
A new report from the U.S. Department of Health and Human Services (HHS) shows that the Biden Administration's historic vaccination program, which has gotten over 90 percent of seniors fully vaccinated and over 70 percent of seniors a booster shot, is linked to more than 650,000 fewer COVID-19 hospitalizations and more than 300,000 fewer deaths among seniors and other Americans enrolled in Medicare. The study, which was conducted by researchers with HHS's Office of the Assistant Secretary for Planning and Evaluation (ASPE), underscores the importance of Americans – particularly seniors and others at high-risk of serious outcomes – getting an updated COVID-19 vaccine this fall.
FDA releases important information about risk of COVID-19 due to certain variants not neutralized by Evusheld (10/3/22)
The FDA added important information to the authorized Fact Sheets for Evusheld (tixagevimab co-packaged with cilgavimab) to inform health care providers and individuals receiving Evusheld of the increased risk for developing COVID-19 when exposed to variants of SARS-CoV-2 that are not neutralized by Evusheld. Detailed neutralization data can be found in the revised authorized Fact Sheet for Healthcare Providers. Health care professionals should inform patients of this risk and advise patients who develop signs or symptoms of COVID-19 to test for SARS-CoV-2 infection and promptly seek medical attention, including starting treatment for COVID-19, as appropriate if they test positive.
Evusheld is currently the only option for pre-exposure prophylaxis (PrEP) of COVID-19 and is authorized under Emergency Use Authorization (EUA) for use in immunocompromised individuals who may not mount an adequate response to COVID-19 vaccination, and for individuals for whom COVID-19 vaccination is not recommended due to a history of a severe adverse reaction.