8/5/22 – Weekly Covid-19 Update
Welcome to CHAP's COVID-19 Update
In this "one-stop shop" update, CHAP will provide a roundup of important COVID-19 information from various federal sources.
All health care providers should be monitoring COVID-19 incidence rates in their state/county on an ongoing basis. The Centers for Disease Control and Prevention CDC provides weekly data about case rates, deaths, testing and vaccine administration on their COVID tracker webpage.
This week's updates:
CDC Data:




COVID-19 Variants by region – BA.5 continues as the dominant variant this week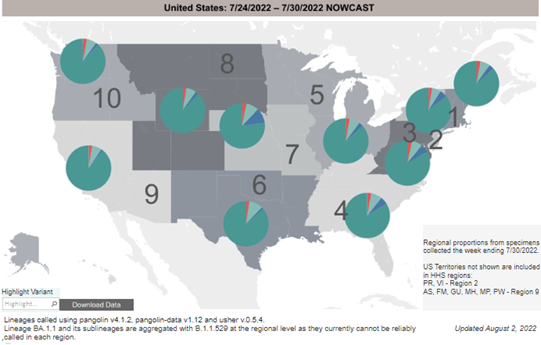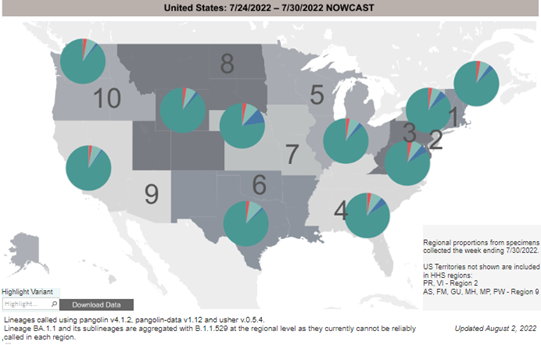 Variant Types – Map key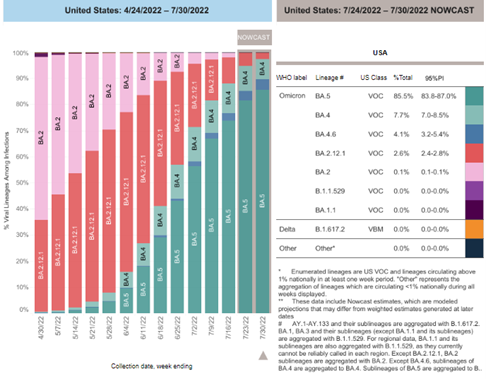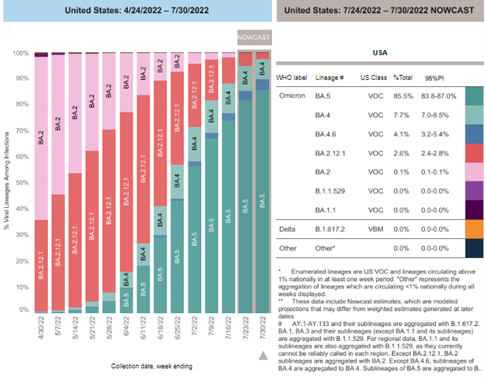 CDC and other Federal Updates:
FDA COVID-19 Test Update (7/29/22)
The FDA updated the FAQs on Testing for SARS-CoV-2 to note that no tests remain on the commercial manufacturer serology test notification list described in the FDA's Policy for Coronavirus Disease-2019 Tests. All tests previously on the commercial manufacturer serology test notification list have either been issued an Emergency Use Authorization or should no longer be distributed, marketed, or offered.
https://www.fda.gov/news-events/press-announcements/fda-roundup-july-29-2022
Biden–Harris Administration Releases Two New Reports on Long COVID to Support Patients and Further Research (8/3/22)
The U.S. Department of Health and Human Services (HHS), leading a whole-of-government response, developed two reports that together, pave an actionable path forward to address Long COVID and associated conditions. The National Research Action Plan on Long COVID details advances in current research and charts a course for future study to better understand prevention and treatment of Long COVID. The Services and Supports for Longer-Term Impacts of COVID-19 report highlights resources for health care workers, and those effected by broader effects of COVID-19, including not only Long COVID but also effects on mental health and substance use, and loss of caregivers and loved ones.
The National Research Action Plan on Long COVID (the Research Plan), created in coordination with 14 government departments and agencies, introduces the first U.S. government–wide national research agenda focused on advancing prevention, diagnosis, treatment, and provision of services and supports for individuals and families experiencing Long COVID.
https://www.hhs.gov/about/news/2022/08/03/biden-harris-administration-releases-two-new-reports-long-covid-support-patients-further-research.html
Biden-Harris Administration Secures 66 Million Doses of Moderna's Variant-Specific COVID-19 Vaccine Booster for Potential Use in Fall and Winter 2022 (7/29/22)
HHS, in collaboration with the U.S. Department of Defense (DOD), today announced an agreement to purchase 66 million doses of Moderna's bivalent COVID-19 vaccine booster candidate for potential use in the fall and winter. This contract announcement follows a recommendation by the FDA last month that vaccine manufacturers update their existing COVID-19 vaccines to create a bivalent booster that can target BA.4 and BA.5 Omicron subvariants.
The purchase is in addition to the 105 million bivalent COVID-19 vaccine booster doses the U.S. government purchased recently from Pfizer for potential use later this year, pending FDA authorization and a recommendation by CDC. Pending those FDA and CDC actions, HHS would receive the first deliveries of the Moderna and Pfizer vaccine booster doses in early fall.
https://www.hhs.gov/about/news/2022/07/29/biden-harris-administration-secures-66-million-doses-modernas-variant-specific-covid-19-vaccine-booster-for-potential-use-in-fall-winter-2022.html